Citizen-science recordings prove to be a useful tool in detecting diel patterns in birdsong
When listening to birds sing, we often wonder: what are they "saying"? To whom are they singing? For decades, researchers have extensively studied birdsong and the behaviors associated with it, determining that songs can be used for numerous functions, such as mate attraction, territory defense, and species identification.
To convey these different messages, some species sing different types of songs or change other singing-related behaviors. One such change is the time at which a bird sings: looking closely, there are differences in some bird's songs that vary with the time of day, termed diel patterns.
One species in particular that has had its song and associated behaviors thoroughly studied from dawn to dusk is the Chipping Sparrow. Specifically, intensive fieldwork in western Massachusetts demonstrated that male chipping sparrows alter both their behavior and their song throughout the morning. At dawn, Chipping Sparrows sang shorter songs and sang from the ground at territory boundaries, often singing toward other nearby males; in contrast, later in the morning, Chipping Sparrows sang longer songs and broadcast their song from treetops, most often when they had yet to pair with a female. Thus, these field studies indicated that the shorter dawn songs could be primarily associated with territory defense, and the longer daytime songs with mate attraction.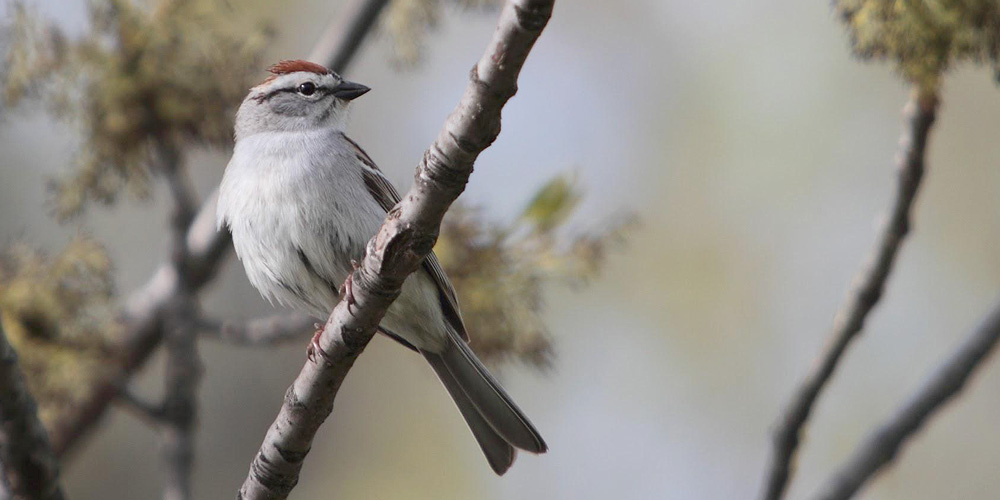 With so many birders actively collecting and contributing birdsongs to online sound repositories such as Macaulay Library and Xeno-canto, we were interested in whether diel patterns in birdsong could be discovered from analyzing citizen-science recordings alone, without associated field observations or behavioral information. Thus, we used Chipping Sparrows as our case-study species.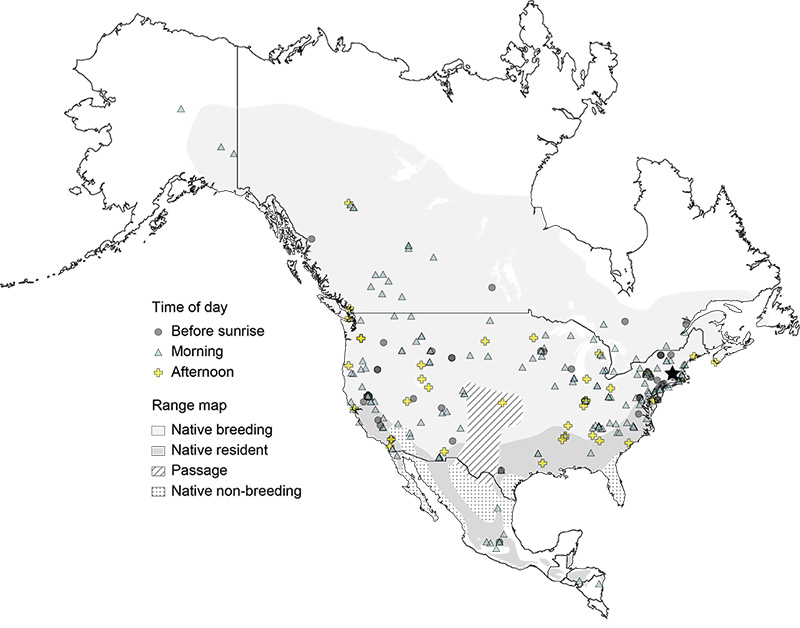 In our recent publication, we collected over 300 song recordings deposited by citizen-scientists from Alaska to Guatemala and catalogued in online databases. We used software that we developed called Chipper to measure several properties of each song and compare them at different times of day. With this song analysis, we were indeed able to observe diel patterns in songs sung across the Chipping Sparrows' entire geographic range! This was notable, because both behavioral information and repeated observations of the same bird were not needed to determine that songs before sunrise were shorter than songs during the day. With our dataset, we could also pinpoint which song properties the birds were altering to shorten their songs: they were singing fewer syllables in each song, not singing shorter syllables or reducing the silence between syllables.
Here you can visibly see the difference in duration and number of syllables between the songs closest to the average of those recorded before sunrise (songs associated with territory defense) versus in the morning (songs associated with mate attraction):
Spectrogram of a song sung before sunrise:

Spectrogram of a song sung in the morning:

We hope our work provides an example of how researchers can expand the use of geographically well-distributed online recordings of birdsong to explore temporal patterns in animal communication. Moreover, we hope such methods combined with fieldwork will allow for more cost- and time-efficient discoveries of particular species' singing behaviors. Together, field and computational work can create a more complete picture of the diel patterns common across the avian tree of life.
The research was recently published in the Journal of Field Ornithology:
Searfoss, A. M., W.-c. Liu, and N. Creanza (2020). Detecting diel patterns in the songs of Chipping Sparrows using citizen-science data. Journal of Field Ornithology (https://doi.org/10.1111/jofo.12340) .
Guest post by:
Abigail Searfoss and Nicole Creanza
Vanderbilt University, Tennessee USA
Lab website: creanzalab.com
Code and data available here: github.com/CreanzaLab/chipping_sparrows_time_of_day
Twitter: @CreanzaLab @AbigailSearfoss
Citizen-science recordings prove to be a useful tool in detecting diel patterns in birdsong