Alexander F. Skutch Medal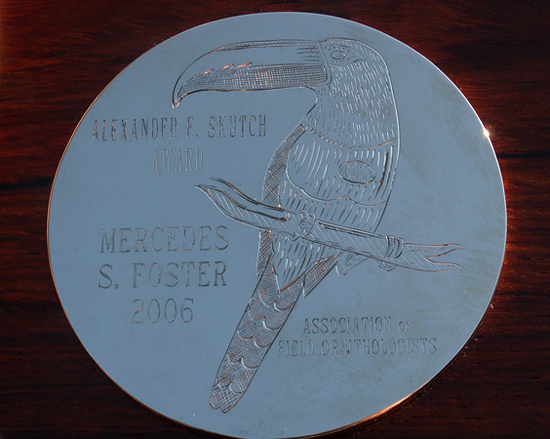 Purpose
The Skutch Medal recognizes career accomplishments, particularly in, although not limited to, research relating to life history studies of Neotropical birds. Criteria may include encouragement and mentoring of students, particularly Latin Americans, and making research accessible to the public through popular publications, as well as publishing work in scientific journals. A goal of the award is to recognize individuals whose careers will stand as models of excellence in Neotropical ornithology.
History
The first award was presented by Dr. Skutch in 1997 to F. Gary Stiles at the 75th AFO meeting in San José, Costa Rica. The award consists of a silver medal engraved with an image of the Fiery-billed Aracari (Pteroglossus frantzii) and a check for US$1,000.
Nominations
The AFO Council will consider nominations received by July 31 for an award to be made at the subsequent annual meeting. Nominations may be made by e-mail or letter to the Committee and should address the candidate's contributions to Neotropical ornithology with particular reference to the criteria mentioned above. Supporting materials should include a justification for receiving the award and biographical information, which may be accompanied by publications of the candidate, supporting letters, and other relevant information. Nominations may be sent to:
Alex Jahn
Email: alexjahn77@yahoo.com
Read Elissa Landre's article on the history between Dr. Skutch and AFO
Previous Winners:
Click a year to expand for details on the award recipient:
2017

– Juan Carlos Reboreda

During the closing banquet at the Ornithological Congress of the Americas in Puerto Iguazú, Argentina, the AFO presented the Alexander F. Skutch Medal to Dr. Juan Carlos Reboreda, Dean and Professor in the Faculty of Exact and Natural Sciences, University of Buenos Aires, and Senior Researcher in Argentina's National Council for Scientific and Technical Research (CONICET).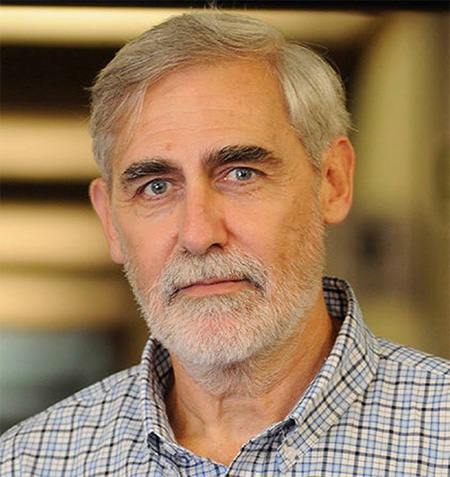 The Skutch Medal recognizes career accomplishments, particularly in research relating to life history studies of Neotropical birds. Awardees are often recognized for their commitment to mentoring students (particularly those from Latin America), and making research accessible to the public. Its primary purpose is to recognize individuals whose careers will stand as models of excellence in Neotropical ornithology.
Juan Carlos received a M.Sc. in Biological Sciences in 1981 and a Ph.D. in Biological Sciences at the University of Buenos Aires in 1987. He conducted postdoctoral studies at the University of Cambridge and Oxford University, United Kingdom. Throughout his career, Juan Carlos has served as an advisor to numerous graduate and undergraduate students, published over 130 research articles, and has provided notable service to the academic and scientific community. He has served as Secretary of the Argentine Society of Biology, has been Vice President and Secretary of the Argentine Association of Ecology, and has served as Vice President and President of Aves Argentinas, the host society for the Ornithological Congress of the Americas. He served as Associate Editor of The Auk, Bird Conservation International, Ardeola, and Emu–Austral Ornithology, and has served on the Editorial Committee of Ecología Austral, and the Hornero.
He is an internationally recognized ornithologist, previously being named a Fellow of the International Ornithological Union (2006), and an Elective Member (2009) and Fellow (2011) of the American Ornithological Society.
Most notably perhaps is Juan Carlos' leadership in establishing the field of Behavioral Ecology in Argentina. He is the founder of the Behavioral Ecology Lab at the University of Buenos Aires, which, in particular, has made significant advances in our understanding of the behavioral ecology of avian brood parasites. Numerous people who have passed through Juan Carlos' lab have established their own research programs in various parts of Argentina and abroad.
This year's Skutch Medal committee was formed by AFO Councilor Alex Jahn, AFO President Paul Rodewald, AFO Vice President Dan Ardia, two past AFO Presidents, Reed Bowman and Kathryn Purcell, and the Chair of the Organizing Committee of the Ornithological Congress of the America, and AFO Councilor, Valentina Ferretti.
2014

– James W. Wiley

This year, the council and members of the AFO are honored to present the Skutch Medal for Excellence in Neotropical Ornithology to Dr. James W. Wiley. Dr. Wiley is recognized for his significant contributions to the scientific literature that have aided in the conservation of a wide range of imperiled Neotropical species in the Latin American-Caribbean region. He was one of the founding members of the Society for the Conservation and Study of Caribbean Birds (SCSCB), and served as the editor of The Journal of Caribbean Ornithology between 1988 and 2004.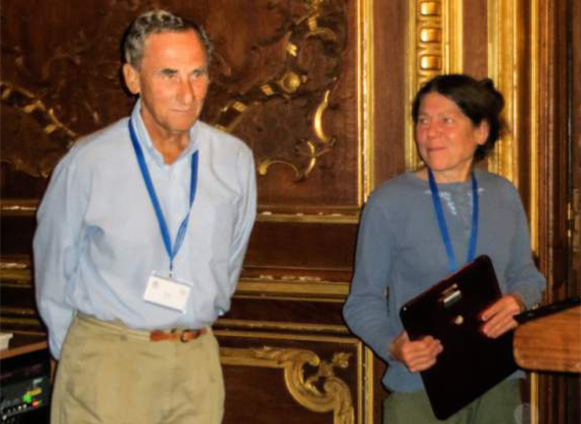 His research efforts have not only assisted in the recovery of endangered species and management of critical habitat, but have also provided benefits to the public. For example, Dr Wiley has co-authored numerous popular books including three seminal field guides, Birds of the West Indies, Birds of the Dominican Republic and Haiti, and The Birds of Hispaniola. These definitive field guides have not only provided pleasure for scientists and recreational birders alike, but have also significantly contributed to the understanding of ornithology in the region.
Throughout his career, Dr. Wiley's extensive mentoring and teaching efforts have impacted a wide range of students and professionals, particularly those in the Latin American-Caribbean region. Dr. Wiley engaged students formally through supervision within Cooperative Fish and Wildlife Unitsat Grambling University and at the University of Maryland at Eastern Shore, and informally in the field, through ornithological meetings, and personal communications. His dedication to mentoring and developing his students is legendary.
The Skutch Medal committee was chaired by Dr. Herb Raffaele, Chief, Division of International Conservation, U.S. Fish and Wildlife Service. The committee consisted of Lisa Sorenson, Executive Director and former President of Birds Caribbean; Amiro Perez-Leroux, Director of Birdlife International for Latin America and the Caribbean; Bert Lenten, Deputy Secretary General of the Convention on Migratory Species; Richard Huber, Principal Environmental Specialist for the Department of Biological Protection and Management at the Organization of American States and Chair of Western Hemisphere Migratory Species Initiative; Maria Rivera, Senior Advisor for the Americas in the Secretariat of the Convention on Wetlands of International Importance; and Nestor Herrera, Director of Wildlife and Ecosystems at El Salvador's Environmental Ministry.
2010

– John P. O'Neill

AFO is honored to present the 2010 Skutch Medal to John P. O'Neill. Dr. O'Neill is renowned as one of America's foremost bird illustrators, and his fieldwork in Peru has led to the discovery of more species of birds than any other living naturalist, including three new genera. During his more than thirty-five years of expeditions and explorations in South America, John O'Neill has mentored and trained more than a hundred students from U.S. and Peruvian universities, leading to many bi-national collaborations, publications, and discoveries. Among his many accomplishments is the recent publication of "Birds of Peru", an outstanding field guide to the birds of this remarkable country.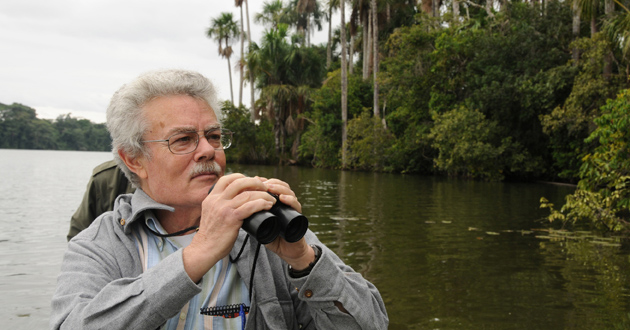 Although many people write books, many fewer have books written about them. John O'Neill falls in the latter category, with Don Stap's book "A Parrot without a Name" (Knopf, 1990), chronicling how O'Neill's unique brand of expeditionary science has helped place the Louisiana State University Museum of Natural Science at the forefront of Neotropical Ornithology.
O'Neill earned his Master's and Doctorate degrees at LSU, and worked as the Curator of Higher Vertebrates at the LSU Museum of Natural Science for several years. He then served as the Director for 5 years. Realizing that he had no time for his painting, he decided to step down to focus on his artwork and organizing expeditions for the Museum.
In addition to scientific publications and pursuits, O'Neill has made his life's work accessible to the public through hundreds of articles and paintings published in magazines, books, non-profit newsletters, newspapers, and exhibited in museums throughout the U.S. and many foreign countries. O'Neill's paintings are in the collections of the Houston Museum of Natural Science, the Beijing Natural History Museum, and the Denver Museum of Natural History, among others.
The Skutch Medal was presented at the annual meeting in Ogden, Utah.
2006

 – Mercedes S. Foster

**details coming soon**
1999

 – Herbert A. Raffaele

**details coming soon**
1997

 – F. Gary Stiles

**details coming soon**