Researchers develop an effective tool for reducing mammalian predation at nests of critically endangered Florida Grasshopper Sparrows
Predation is a common cause of nest failure for many birds, but sometimes predation rates can be high enough to warrant action by managers tasked with protecting imperiled species. Discovering new ways to prevent or decrease predation may be a critical step towards recovering endangered populations. New research just published in The Journal of Field Ornithology reveals how the installation of predator exclusion fences at the nests of critically endangered Florida Grasshopper Sparrows substantially decreased predation by mammals. Researchers hope that increasing nest survival rates with fences will contribute towards the recovery of this endemic songbird.
Nest-level predator exclosures have been shown to be effective at increasing reproductive success in many shorebird and duck species. However, installing predator exclosures is intrusive and can lead to nest abandonment or adult mortality. These impacts can counteract potential increases in reproductive success and new predator exclusion methods should be carefully evaluated with each study population to assess their safety and effectiveness.
To test whether predator exclosures would safely and effectively reduce predation rates at nests of ground-nesting Florida Grasshopper Sparrows, Erin Hewett Ragheb and a team of colleagues from the Florida Fish and Wildlife Conservation Commission designed an open-topped perimeter fence (hereafter, fence) of hardware cloth approximately 60 cm tall with a 15 m diameter. They then observed breeding adults to make sure that they accepted the fences. Nest cameras installed at each nest then documented nest fates and identified any predators. Fences were installed at Florida Grasshopper Sparrow nests at the two largest remaining study populations: one with native dry prairie and one with cattle pasture.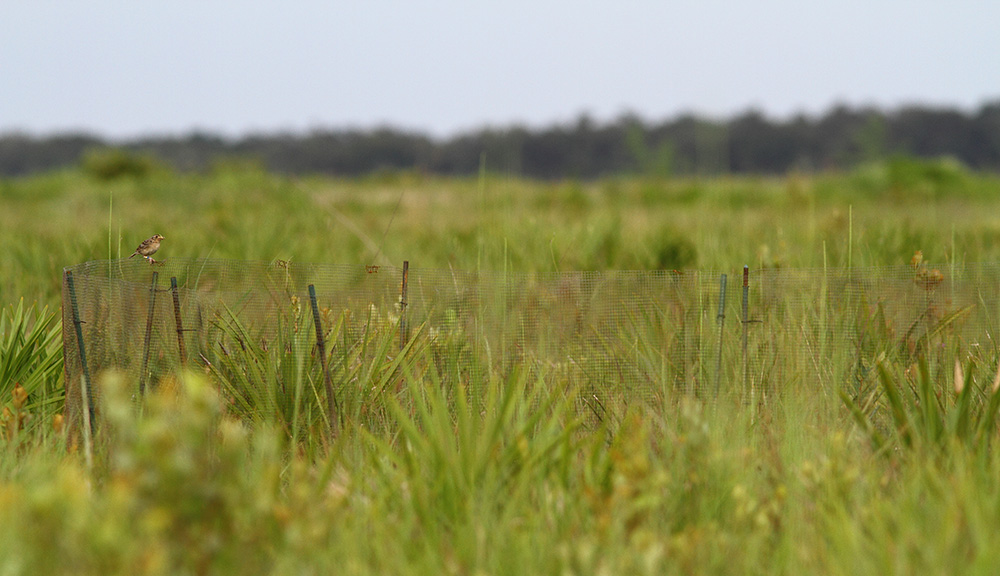 The fences were effective at the dry prairie site and the probability that a fenced nest survived from discovery to fledging was more than double that of unfenced nests (60.4% vs. 27.7%). Fences were accepted by breeding adults at 129 of 130 fence installations and abandonment rates were low and equal to unfenced nests. Cameras revealed that the primary predators in the dry prairie site were medium-sized mammals and snakes and the fences effectively reduced mammalian predation. The improvement in nest survival was estimated to produce ca. 115 additional Florida Grasshopper Sparrows during the four years of this study (2015-2018).
Despite success at the dry prairie site, fences did not appear to improve nest survival at the pasture site. Red imported fire ants were responsible for 86% of predation events at fenced nests at the pasture site.  Because ants can easily access fenced nests, there is an urgent need to continue research on methods to reduce ant predation at this site. However, for sites where mammals are the most common predators, predator exclusion fences have potential to contribute to population recovery of Florida Grasshopper Sparrows and the technique may be useful for other imperiled grassland passerines.
This research was recently published in the Journal of Field Ornithology:
Hewett Ragheb, E. L., K. E. Miller, and E. Hoerl Leone. 2019. Exclosure fences around nests of imperiled Florida Grasshopper Sparrows reduce rates of predation by mammals. Journal of Field Ornithology https://doi.org/10.1111/jofo.12310
Guest post by:
Erin Ragheb
Florida Fish and Wildlife Conservation Commission
Researchers Develop an Effective Tool for Reducing Mammalian Predation at Nests of Critically Endangered Florida Grasshopper Sparrows