AFO Afield Newsletter
Our newsletter, AFO Afield, is now delivered by email! View archived versions of recent issues online here:
October 23, 2019
 └ Last minute details for the annual conference in Cape May, NJ, USA, NAOC call for proposals
August 27, 2019
 └ 2019 Conference details, Skutch Award, recent blog posts, NAOC VII announcement
Past issues
Previously, AFO Afield was published about two times a year in a traditional paper format. It includes news on our meetings, future plans, and AFO activities. Past issues are available below to download.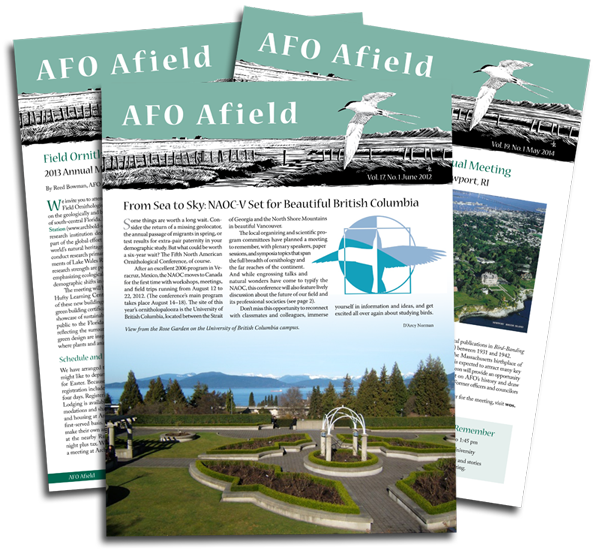 March 2018
 └ Ornithological Congress of the Americas recap, Council update, Award updates
June 2017
 └ 2016 NAOC recap, Ornithological Congress of the Americas, Avinet
August 2016
 └ 2016 NAOC, Skutch Award winner interviews, Patagonia's migratory birds
February 2016
 └ 2015 Meeting, Bergstrom Memorial Awards, House Sparrow eggs, Social Media & the Digital World
March 2015
 └ New website, Avian Research Supplies, NABC, meetings
May 2014
 └ 92nd Annual Meeting announcement, Bergstrom Memorial Awards
December 2013
 └ AFO history, 2013 Bergstrom & Skutch winners

June 2013
 └ 91st Annual Meeting summary, Neotropical sponsorships, Council update
December 2012
 └ 91st Annual Meeting announcement, NAOC summary, JFO impact
June 2012
 └ NAOC announcement, Best Student Publication 2011, Council update
Nov 2011
 └ Banding supplies, Neotropical ornithologists, Bergstrom & Skutch winners
May 2011
 └ 89th Annual Meeting summary
December 2010
 └ Meeting announcement, award winners
April 2010
 └ Meeting announcements, Council update
July 2009
 └ 87th Annual Meeting summary
November 2007
 └ Biological field stations, award winners, NABC
March 2007
 └ 2006 Skutch Medal, meeting announcement, The Alexander Skutch Project
January 2006
 └ 2006 announcements, avian influenza
January 2005
 └ 2004 meeting summary, NSWO banding