Apparent survival of tropical birds in a wet, premontane forest in Costa Rica
Downpours, blustery winds, and a damp fog are not the best weather for doing fieldwork in Parque Nacional Volcán Tenorio in Costa Rica. Although the inclement weather isn't great for behavioral observations of White-ruffed Manakins, it does provide an excellent opportunity to write about our recent paper in the Journal of Field Ornithology – "Apparent survival of tropical birds in a wet, premontane forest."
Newsflash: rainforests are rainy! While this doesn't seem like a revolutionary a concept, increasingly we're realizing that rain can affect birds in ways we didn't anticipate previously. How frequently and how much rain falls in the tropics may play a role in determining life history strategies, food abundance, and birds' ability to forage. But to get to the root of how rain might drive variation in these aspects of bird biology, we first need to know some basic demographic information to understand how environment and population dynamics interact.
A first step is getting apparent survival estimates. This is not a trivial undertaking in the tropics! We need lots of data over a long time period, and field sites in the tropics can be difficult to access, remote, and rustic. Despite these challenges, Dr. Alice Boyle and Dr. Megan Jones spent seven years systematically mist netting at Rara Avis Rainforest Lodge, capturing as many birds as they could in beautiful primary forest bordering Costa Rica's Braulio Carrillo National Park.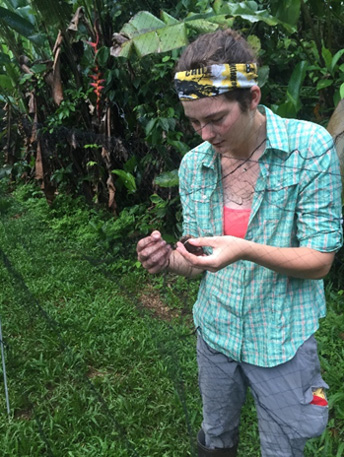 Early in my PhD career, I decided to analyze that capture-mark-recapture data as part of a demographic methods class with Dr. Brett Sandercock. The exceptionally rainy conditions (varying around 8 meters of rain per year!) experienced by the remarkably diverse avian community made it an intriguing project for testing ideas about how rain may affect apparent survival, in addition to providing basic demographic information.
The dataset totaled 2187 captures of 1674 individuals representing 79 species. However, with few recaptured birds in each species, we were eventually only able to analyze capture histories of 7 different species. This data allowed us to calculate estimates of apparent survival that were constant across all years. Given the potential effect rain might have on survival, we also tested whether year to year variation in precipitation influences the likelihood that birds survived. In some species birds had slightly higher survival following years with more rain, but other species were less likely to survive especially rainy years. We were able to provide new estimates of apparent survival for four tropical species, and for the remaining three species were able to compare our estimates with those calculated in different locations in the tropics.
This type of analysis and dataset are important because they give us the basic demographic information we need to begin refining our ideas about how rain matters for birds. For example, my current field work (which is getting rained out at the moment) is testing how different amounts of annual rainfall affect population genetics and display behavior of highly sexually selected species.
The amount of data required to calculate these demographic estimates also highlights the importance of long term, intensive field work in the tropics, distributed across different environmental conditions. Tropical habitats vary dramatically, and how a species responds to abiotic conditions in one population may be dissimilar from another population. To dig deeper into the mechanistic drivers of evolution in the tropics we need to emphasize in-depth, long-term studies of species and communities to provide a foundation for testing hypotheses and advancing knowledge.
This research was recently published in the Journal of Field Ornithology:
Shogren, E. H., M. A. Jones, B. K. Sandercock, and W. A. Boyle. 2019. Apparent survival of tropical birds in a wet, premontane forest in Costa Rica. Journal of Field Ornithology https://doi.org/10.1111/jofo.12290
Follow the authors on Twitter:
E.H. Shogren: @e_shogren
M.A. Jones: @MeganAHJones
B.K. Sandercock: @bksandercock
W.A. Boyle: @birdfiddler
Guest post by:
Elsie Shogren
PhD Candidate
Division of Biology
Kansas State University