Upcoming Meetings
2018: June 7-9, Chattanooga, TN, USA
AFO will hold its next annual meeting jointly with the Wilson Ornithological Society at the Chattanooga Convention Center in Chattanooga, TN.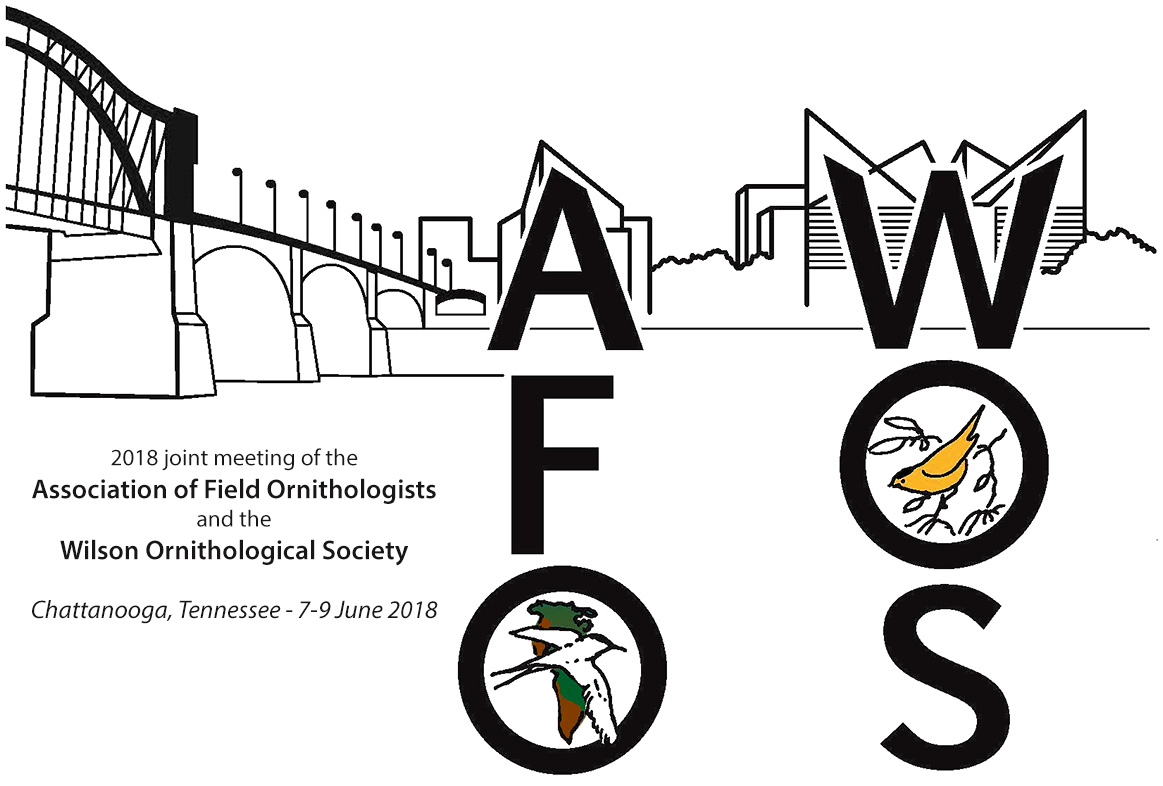 The Association of Field Ornithologists (AFO) and Wilson Ornithological Society (WOS) are pleased to announce that registration is open for their joint meeting to be held at the Chattanooga Convention Center in Chattanooga, Tennessee from 7-9 June 2018.  AFO/WOS meetings are known for their blend of academic and government ornithologists and citizen scientists, and our meetings offer a welcoming atmosphere for graduate and undergraduate students and early professionals.
Registration information, abstract submission, travel information, and other information can be found at the conference website: www.cvent.com/d/4tqzbk. Please register now for this exciting, convenient, and inexpensive ornithology conference.
Location, Birding, and Accommodations
The riverfront city of Chattanooga offers a scenic venue for the meeting.  Chattanooga is a family-friendly location with many activities in or near downtown and a plethora of local eateries; the conference banquet will actually be held in the River Journey of the beautiful Tennessee Aquarium, located near the city's waterfront.  June is an excellent time for birding in Chattanooga, and there are many birding spots near to downtown; several free field trips are available to participants and guest.  Inexpensive rooms are available for conference participants at the attached Marriot Chattanooga Downtown and the nearby Days Inn Chattanooga-Rivergate.
Travel Awards
are available for students and early professionals to attend the meeting. Applications are due 2 March 2018.  See the conference website for submission details.
Plenary Speakers
We are excited to offer two excellent plenaries during the conference.  Valentina Ferretti will speak about, "Variation in extra-pair paternity: lessons learned from studying birds in South America."  Reed Bowman, who is receiving WOS's Margaret Morse Nice award that honors a lifetime of contributions to ornithology, will present "The challenges of long-term research: getting the work done and keeping it relevant."
Questions about the conference should be sent to local host David Aborn (David-Aborn@utc.edu), WOS President Mark Deutschlander (deutschlande@hws.edu), or AFO President Paul Rodewald (pgr35@cornell.edu). Information on the joint societies' code of conduct is available HERE.
For summaries of past meetings, CLICK HERE