We are excited to present the AFO Café—informal science conversations about birds, their habitats, and field biology, with a short update on AFO's programs—all free, open to the public, and sponsored by Avinet Research Supplies. Please bring your coffee, tea, beer, or beverage of your choice, and join us! You can even help us support the café by visiting our Bonfire store and purchasing a coffee mug or shirt. If you miss one of our events, you can view recordings at our YouTube Channel.
Upcoming Events:
July 30, 2021 – 4 pm EDT – "Does living in the city make Northern Cardinals change color?" featuring Dr. Dan Baldassarre, Provost Teaching Fellow, SUNY Oswego, and Brooke Goodman, undergraduate student, SUNY Oswego.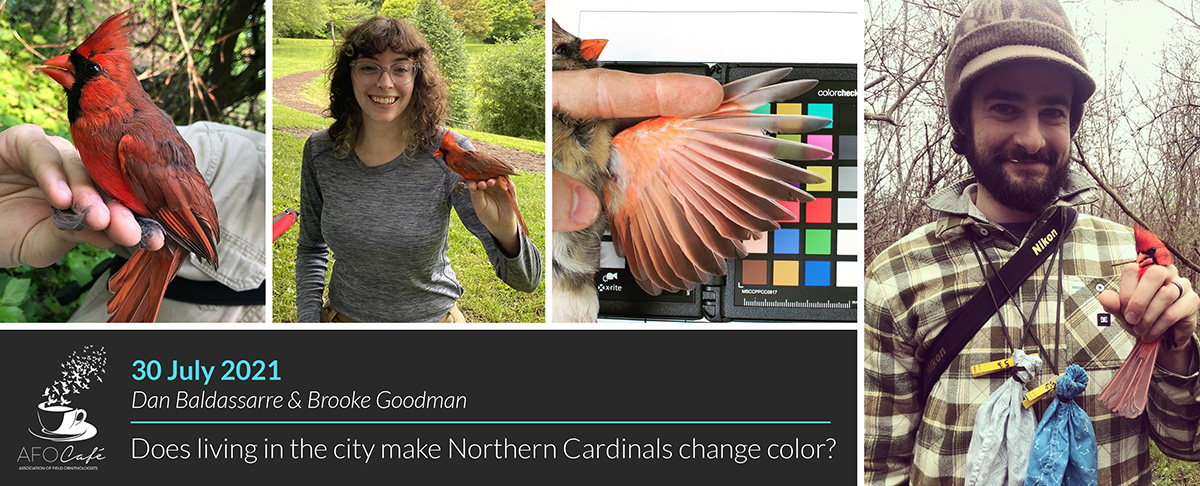 Humans dominate the global landscape, so we need to understand how our activity affects wildlife. In this AFO Café, Dan will provide a general overview of how urban living affects the visual and vocal communication of Northern Cardinals (Cardinalis cardinalis). This research is driven exclusively by undergraduate students, one of whom, Brooke Goodman, will talk about her project using automated recorders to quantify cardinal song repertoires.
Registration is now open for the Zoom meeting HERE.
The Zoom meeting is limited to 90 attendees, but you can also watch the event live on our YouTube Channel HERE.
---
Past Events:
June 25, 2021

: "On the origins of a new species of Seedeater from the Esteros del Iberá in Argentina"

Featuring Leo Campagna, Cecilia Kopuchian, and Adrián Di Giácomo

We combine field experiments and genomics to understand the importance of behavioral isolation in the capuchino seedeaters (Sporophila). The study takes advantage of the recent discovery of a new species in the genus, Sporophila iberaensis, which has a very small breeding range confined to the northern portion of the Esteros del Iberá Wetlands in the province of Corrientes (Argentina).

Watch the recorded event here:
---
Interested in speaking? Have a topic idea? Contact us at afo.communications@gmail.com with speaker suggestions or to volunteer!