The E. Alexander Bergstrom Memorial Research Award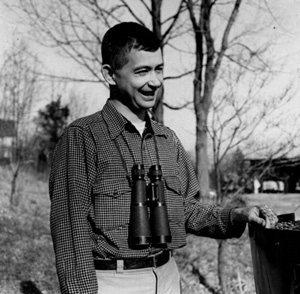 E. Alexander Bergstrom (1919-1973) was Vice-President of the Northeastern Bird-Banding Association (now the Association of Field Ornithologists) and the Editor of Bird-Banding (now the Journal of Field Ornithology) for 21 years. These awards honor his memory and dedication to bird research. The purpose of the award is to promote field studies of birds by helping to support a specific research or analysis project. In judging among proposals of equal quality, special consideration will be given to those that: 1) focus on avian life history, 2) use data collected all or in part by non-professionals and/or 3) employ banding or other marking techniques. Research in both the U.S./Canada and Latin America is supported.
If possible, awardees, especially those receiving Domestic awards, are expected to present the results of their research at an annual meeting of the Association of Field Ornithologists. All awardees are also encouraged to consider publishing some of their findings in the Journal of Field Ornithology.
Eligibility
The applicant and/or their primary research supervisor must be a member of the Association of Field Ornithologists prior to the application deadline. To become a member, please visit http://www.osnabirds.org/.
U.S./Canada awards are aimed at people beginning their research or those with limited or no access to major funding. They are restricted to non-professionals, undergraduates, and Masters degree candidates working in the United States or Canada. Ph.D. students studying at U.S. and Canadian institutions, regardless of their nationality or geographic region of investigation, are NOT eligible to receive a Bergstrom Research Award.
Latin American awards are restricted to individuals based AT Latin American institutions (individuals from Latin American that are studying or working at a U.S. or Canadian institution are eligible for U.S./Canada awards only). Non-professionals, undergraduates, Masters and Ph.D. candidates are all eligible for the Latin American competition.
Frequency and value
Approximately five awards (maximum $1500 US each) are made to applicants working in the U.S. or Canada annually. Approximately five awards (maximum $1500 US each) are made to applicants based in Latin America. Individuals may wish to consider using some of their award to purchase mist nets and other supplies used in ornithological research from the AFO. A list of supplies available can be found at Avinet Research Supplies.
Applying for an award
Applicants must arrange to have one letter of reference e-mailed directly from the referee to Cecilia Kopuchian, Chair of the Bergstrom Awards Committee at: ckopuchian@gmail.com.  Please contact the Chair if you have further questions about the Bergstrom Award.
U.S./Canada applications should be submitted in English. Latin American applications may be submitted in English, Spanish, or Portuguese.
You can now apply online!  Click HERE for application form.
Deadlines for receipt of applications
U.S./Canada applications are due 15 January. Latin American applications  are due 15 July.
---
Past Award Recipients
Click a year to expand for details on the award recipients:
2021
from North America:
Seth Finkel, Michigan Technological University – Evaluating micro-level, stand-level, and landscape level influences on display site selection in Ruffed Grouse (Bonasa umbellus) in the Great Lakes region
Hans Gonzembach, Florida Atlantic University – Testing the acoustic transmission properties of the Bachman's Sparrow (Peucaea aestivalis)
Maina Handmaker, University of South Carolina – Understanding Whimbrel use of a critical nocturnal roost during migratory stopover
Mark Kerstens, Oregon State University – Is Black-Backed Woodpecker habitat selection innate or learned? An investigation of natal dispersal in a fire prone landscape
Shane McFoy, Villanova University – Assessing hybrid chickadee cognitive impairment and Influence of social networks on cognition
Brian Tsuru, The Ohio State University – End-of-season ecology and migratory departure timing in the Prothonotary Warbler
from Latin America:
Cassiana Alves de Aguiar, Pontifícia Universidade Católica do Rio Grande do Sul – Distribuição, História natural e conservação de papa-moscas ameaçados de extinção: Culicivora caudacuta e Polystictus pectoralis (Tyrannidae)
María Monserrat Del Caño, Instituto de Biología de Organismos Marinos IBIOMAR – CONICET – Empleo de acelerometría para el estudio de la inversión parental y reducción de nidada en un ave marina dimórfica.
Matías Alejandro Juhant, Instituto de Bio y Geociencias del Noroeste Argentino (CONICET) – Is there differential migration by age during winter in the three hawks of the genus Geranoaetus?
Paula Estafania Micheltorena, Facultad de Ciencias Naturales (UNLP), Estado poblacional y de conservación del Pato de los Torrentes (Merganetta armata armata) en Patagonia Andina
María Paula Rodriguez, Universidad de Los Andes, Bogotá, Colombia – Behavior and phenotypic variation in a contact zone of Chlorospingus flavopectus: implications for species delimitation
2020
from North America:
Margaret Boyle, Villanova University – Does social dominance of Tufted Titmouse asymmetrically impact Black-capped versus Carolina chickadees?
Jennifer Fuller, University of Michigan – Characterizing Black Tern (Chlidonias niger) Nesting Response to Changing Water Levels and Flooding in the Lake St. Clair, Michigan: A Spatial Approach
Meredith Heather, Florida Gulf Coast University – Influence of post-fire structural heterogeneity on resource abundance and foraging behavior of the Florida Scrub-Jay (Aphelocoma coerulescens)
Emily Johnson, East Carolina University – Egg variation in King Rails (Rallus elegans) and its potential uses in population monitoring
Billi Krochuk, University of British Columbia – Using multiple measures of diversity to assess the impact of forest degradation on understory birds in Central Africa
Stephanie Stanton, Western Michigan University – Geographic Variation in Field Sparrow songs: does urbanization drive population differences?
from Latin America:
Jazmín Ramirez, Instituto de Ecología A.C. (INECOL) – Dispersión de semillas por el pavón (Oreophasis derbianus), un crácido en peligro de extinción en la Reserva de la Biosfera El Triunfo, Chiapas, México
Cal Reynold, Foundation for Wildlife Conservation, Runaway Creek Nature Reserve – Monitoring Neotropical Migrant and Resident Birds at Runaway Creek Nature Reserve in Belize
Stella Beatriz Román, Facultad de Ciencias Exactas y Naturales, Universidad Nacional de Mar del Plata – Variaciones espacio-temporales de recursos tróficos y hábitat: evaluando sus consecuencias sobre el éxito reproductivo de las aves migratorias de pastizales
Sofía Martín Sirito, Facultad de Ciencias Exactas y Naturales, Universidad Nacional de Mar del Plata – Reproductive behavior of birds in natural grasslands and modified environments in the Pampas
2019
from North America:
Lorainne Dargis, University of Northern Colorado – Does population density drive female singing behavior and breeding ecology of Canyon Wrens (Catherpes mexicanus)?
Christopher Roelandt, University of Michigan-Flint – Using body-condition of the American Woodcock as an indicator of habitat quality
Michael Rowley, Villanova University – Investigating cognitive impairment in hybrid chickadee social networks
Aaron Skinner, The Ohio State University – Using GPS-tracking to fill knowledge gaps in the full annual cycle of an elusive aerial insectivore in steep decline
Luke Wilde, University of South Carolina – Investigating the effects of spatiotemporal predation on the community ecology of the sub-Arctic nesting grounds
Jacob Wessels, Arkansas State University – Cerulean Warbler habitat selection, breeding biology, survival, and movement in the Ozark region
from Latin America:
Paulo Amorim, Universidade Federal de Juiz de Fora, Brazil – Reconhecendo velhos amigos: o dueto do Joãode-Barro (Furnarius rufus) na discriminação vizinho-estranho e a ocorrência da vizinhança querida e desagradável
Melanie Browne, Centro de Ecología Aplicada del Litoral, Argentina – Effects of grazing on the reproductive success of threatened grassland birds in a key area for their conservation in NE Argentina.
María Cecilia Estalles, Universidad de Buenos Aires – Study of the role of the sexual selection in the speciation process of three species of the genus Sporophila
María José Rodríguez-Cajarville, Universidad de Buenos Aires – Dispersal ability, population evolution and conservation of micro-habitat specialist grassland birds
Jennyfer Zuñiga Zavala, – Composition of avifauna and trophic dynamics of birds on beaches of the western Brazilian Amazon coast.
2018
from North America:
Ashley Hannah, University of Wisconsin–Madison – Characterizing fledgling survival, habitat use, and movement patterns in the Wisconsin population of Kirtland's Warblers
Mariah Maxwell, Towson University, Maryland – Do costs of incubation limit clutch size in the Mountain Bluebird?
Marina Rodriguez, Colorado State University – The effect of calcium availability on longevity of nesting Tree Swallows
Lilly Tidwell, East Carolina University – Seasonal adaptive adjustment of nestling provisioning strategy in a multiple-brooded passerine
Evalynn Trumbo, University of Illinois – Post-fledging survival and habitat use of the Golden-cheeked Warbler
from Latin America:
Macarena Felicitas Vazquez, Universidad de Buenos Aires, Argentina – Linking variation in personality traits and parasitic behavior in an avian brood parasite
Pablo Elías Muñoz Cambronero, Universidad de Costa Rica – Co-occurrence patterns and forest structure as factors mediating mixed-species flocks through social network analysis
Julieta Mallet, Universidad Nacional de La Pampa, Argentina – Evaluación de los servicios ecosistémicos provistos por el Carancho (Caracara plancus) en ambientes agrícolaganaderos del centro de Argentina
Patricio David Reyes, Instituto Argentino de Investigaciones de Zonas Aridas, Argentina – Cambios comportamentales en un ave paseriforme para sobrevivir a la antropización del ambiente: el Zorzal Chalchalero como modelo de estudio
Ernesto Gustavo Verga, Universidad Nacional de Córdoba, Argentina – Assessing effects of habitat amount on avian communities across local landscapes in the Chaco forest
2017
from North America:
Anna Buckardt, University of Maine – Using geolocator technology to understand Golden-winged Warbler migratory connectivity, habitat use, and overwinter-survival
Rebecca Garlinger, Villanova University – Dominance and sociality: implications for a moving songbird hybrid zone
Holly Garrod, Villanova University – Breeding biology and interactions of Hispaniolan todies
Eamon Harrity, University of Idaho – Dispersal behavior of the Yuma Ridgway's Rail
Danielle Williams, The Pennsylvania State University – Effects of noise from shale gas compressors on breeding songbird behavior
from Latin America:
Jorge Avendaño, Universidad de los Andes, Bogotá, Colombia – How do the same traits fix across distinct populations? An experimental evaluation of the role of social selection to explain phenotypic convergence in a Neotropical bird
Lia Kajiki, University of Brasilia, Brazil – Natural history and conservation of the Helmeted Manakin (Antilophia galeata) in a cerrado biodiversity hotspot
Aldana Lopez, Universidad de Buenos Aires, Argentina – Individual variation in behavior and its relationship with reproductive success in Chilean Swallows (Tachycineta meyeni)
Paula Orozco Valor, Universidad Nacional de La Pampa, Argentina – Efectos de la intensificación agrícola sobre la demografía, dieta, cuidado parental y la salud de una rapaz típica de agroecosistemas, el halconcito colorado (Falco sparverius) en el centro de Argentina
Juan Manuel Rojas Ripari, Universidad de Buenos Aires, Argentina – Relaciones de parentesco y estructura genética intrapoblacional en un ave con cría cooperativa, el Músico (Agelaioides badius)
2016
from North America:
Elizabeth Ames, The Ohio State University – Filling in the gaps for full annual cycle conservation of the Prothonotary Warbler: phenology, post-fledging survival, and links to the winter grounds
Lee Bryant, Arkansas State University – Is Louisiana Waterthrush fitness and multiscale habitat use altered by Eastern Hemlock decline in Great Smoky Mountains National Park?
Clayton Delancey,
Katie Schroeder,
James Wright, The Ohio State University – Habitat use and migratory stopover ecology of the Rusty Blackbird (Euphagus carolinus)
from Latin America:
Laura Céspedes Arias, Universidad de los Andes, Bogotá, Colombia – Differential introgression of signaling traits across an avian hybrid zone? Implications for speciation
Ramiro Santiago Arrieta, Universidad de Buenos Aires, Argentina – Evaluación de los determinantes comportamentales del sistema de apareamiento genético en dos especies de passeriformes del sur templado
Paula Sabrina Garrido Coria, Universidad Nacional de Cuyo, Argentina – Evaluación de la complejidad vocal de la ratona aperdizada: efectos en la defensa territorial y atracción de pareja
Facundo Gabriel Di Sallo,  Instituto de Bio y Geociencias del Noroeste Argentino (IBIGEO-CONICET), Argentina – Factores que influyen en la selección de sitios de nidificación de las aves excavadoras del Chaco húmedo argentino: rol de la dureza de la madera
Maria Milagros Jefferies, Universidad Nacional de Cuyo, Argentina – Evaluación de las variables determinantes de la probabilidad de depredación de nidos de la Ratona Aperdizada (Cistothorus platensis) en una población del sur templado
2015
from North America:
Nikole Freeman, University of Guelph – Effects of the early life environment on physiology and fitness across life-history stages in a resident boreal passerine
Jesse Holmes, University of Central Missouri – Establishing baseline temperature and humidity levels in Chimney Swift (Chaetura pelagica) roosts to determine if there is a correlation between microclimate and roost habitat selection during the breeding season
Todd Jones, University of Illinois Champaign-Urbana – Examining the post-fledging period of migratory birds: do carryover effects from the nestling stage influence fledgling behavior and survival?
Steven Sevillano, Cornell University – Seasonal variation and resource partitioning of a Polylepis bird community through and altitudinal gradient
Christy Wails, University of New Brunswick – Movement, colony attendance, and behaviour of prospecting Least and Crested Auklets
from Latin America:
Fernando Henrique Teófilo de Abreu

, 

Instituto Nacional de Pesquisas da Amazônia, Brazil – Influence of hemoparasites (Plasmodium) on plumage coloration in males and its implications on the mechanisms of female choice in Lepidothrix coronata
Daniel Pascual Cáceres Apaza, Universidad Nacional de Cuyo & Instituto Argentino de Investigaciones de las Zonas Áridas, Argentina – Evaluation of factors that influence the social mating system in a population of Cistothorus platensis
Emiliano Agustín Depino, Universidad Nacional de Tucumán, Argentina – Vocal interactions between Laterallus melanophaius and L. leucophrys on the coast of the Rio de la Plata, Argentina
Cristian Andrés Gorosito, Centro de Investigación Esquel de Montaña y Estepa Patagónica (CONICET-UNPSJB), Argentina – Determinants of reproductive success of Elaenia albiceps in the Andean forests of Patagonia
Alejandro Alberto Schaaf, Universidad Nacional de Salta & Program of Biodiversity and Sustainable Development of the Universidad Nacional de Jujuy, Argentina – Relationships among population parameters of cavity nesting birds in Piedmont forests of low forestry intensity in northwestern Argentina
2014
from North America:
Santiago David, University of British Columbia – Population and community-level niche conservatism in antbirds (Thamnophilidae) along a tropical elevational gradient
Joseph Eisaguirre, Colorado College – Spatial variation of Golden Eagle diet, nest site productivity, and nest area landscape characteristics on the Seward Peninsula, Alaska
Katherine Freeman, Villanova University – Impacts of post-fledgling survival on reproductive success in an endangered and cooperatively breeding passerine
Vitek Jirinec, College of William and Mary – Wood Thrush habitat use: implications for local distribution
Nicholas Moy, Virginia Commonwealth University – Lateral export of algal bloom toxin from stream systems: Effects of microcystin on an insectivorous riparian songbird
from Latin America:
Talita Vieira Braga, Universidade Federal do Paraná, Brazil – Consequences of different modes of parental care for avian life histories
David Vergara Tabares, Universidad Nacional de Córdoba, Argentina – Effects of fleshy-fruited invasive plants on frugivorous passerine species: estimating a bird´s immunological and demographic patterns
Sofía Zalazar, Universidad Nacional del Nordeste, Argentina – Ecology and conservation of Bare-faced Curassow (Crax fasciolata) in riverine forests of northeastern Argentina
2013
from North America:
Rachael Derbyshire, University of Guelph – Examining the hoard-rot hypothesis in a boreal songbird: an experimental test of the food limitation assumption
Evan Keleman, Villanova University – Singing behavior in Carolina Chickadees (Poecile carolinensis) is consistent across contexts
William Lewis, University of Southern Mississippi – Response of gut microbiota to the energetic demands of long-distance passerine migration
Justin Proctor, Cornell University – Uncovering life history traits and conservation strategies for the Golden Swallow, Tachycineta euchrysea, a threatened and endemic passerine on Hispaniola
Alex Wang, University of Hawaii – Source and sink or ecological trap? Using juvenile dispersal of an endangered Hawaiian bird to tell the difference
from Latin America:
Eugenia Bianca Bonaparte, Universidad Nacional de Córdoba, Argentina – Use and availability of nesting cavities for the Vinaceous Parrot (Amazona vinacea) in the Atlantic Forest of Argentina
Milene Garbim Gaiotti, Universidade de Brasília, Brazil – Mating system of Antilophia bokermanni
Emilio Ariel Jordan, Universidad Nacional de La Plata, Argentina – Phylogeny, biogeography, and evolution of behaviour in the Doraditos (Pseudocolopteryx spp.)
Cynthia Alejandra Ursino, Universidad de Buenos Aires, Argentina – Effects of brood parasitism on social dynamics of a cooperative breeding bird, the Bay-winged Cowbird (Agelaioides badius)