Europe's Birds: An Identification Guide. Rob Hume, Robert Still, Andy Swash, and Hugh Harrop. 2021. Princeton University Press, Princeton, New Jersey, USA. 640 pages. 4,700 colour photographs. Colour distribution maps. Illustrations. ISBN 978-0-691-17765-6 (Flexibound) $29.95.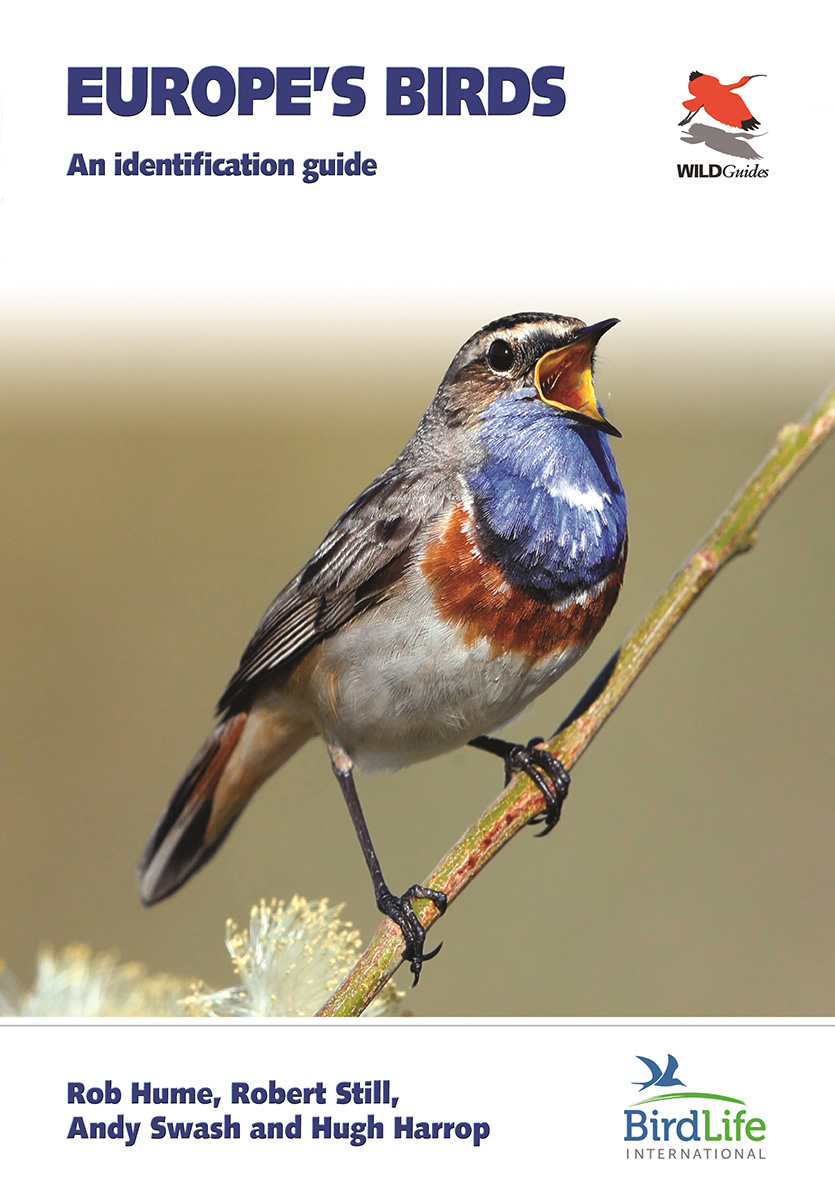 When Europe's Birds: An Identification Guide arrived, my initial thought was 'Do we really need another guide to Europe's birds?' The first thing I noted was that the book is a photographic guide and the second that its subtitle is 'An identification guide' rather than a 'field guide,' – a difference which is significant and one we will get back to later.
The Europe of this book stretches from the Mediterranean basin in the south to Arctic Fennoscandia in the north, from the Ural Mountains and western shore of the Caspian Sea in the east to the Azores, Madeira and Canary Islands in the southwest, and Iceland and even eastern Greenland in the northwest. Unlike the trend followed in some other guides, North Africa and the Middle East and their resident birds are excluded – except when those birds have been recorded as vagrants to Europe. However, a little of Asia Minor, in eastern Turkey, is integrated into Europe. All rather arbitrary boundaries, but in books of this kind they usually are, and in any case, the birds themselves do not recognise borders wherever we put them.
Europe's Birds focuses on the identification of over 900 bird species which have been officially recorded in Europe. The English and scientific names of species and subspecies used follow those of BirdLife International. Species are grouped into families or 'types' such as Wildfowl, Seabirds, Waders, Woodpeckers, Buntings, and the like. The endemic land birds of three Atlantic Island groups in Macaronesia, rare vagrants and non-native birds which have become established in Europe, are dealt with in three sections after the main accounts. Individual species are covered in concise texts that include information on how to identify each in male, female, breeding, non-breeding, adult, and immature plumages and in numerous cases for subspecies. Many birds are also shown in flight, and often in appropriate habitat. The attention to detail is impressive.
The sourcing of the photographs is remarkable. Finding around 4700 images that satisfactorily feature key ID points for so many species and subspecies must have been a huge challenge. The number and size of photographs does vary for each species, usually in relation to the complexities of identifying them but also to the number of subspecies shown. They illustrate key plumage features rather than being simply pretty pictures, although several, including the cover shot of a singing Bluethroat, are full-page and striking. In addition, some images are grouped together, and these resemble the plates of traditional field-guides where similar species can be compared side-by-side, such as those of gulls on pages 110-113, adult skuas in flight on 148-149, birds of prey on 265 and buntings on 510-511.
The images and succinct identification descriptions are the book's strong points, the 'voice' (songs and calls) summaries and maps weak points. Each individual species has a range map, but these are tiny (no doubt owing to reasons of space) which unfortunately renders them almost worthless. As an example, see the map for Cinereous Bunting on page 515. As a woodpecker aficionado, I soon turned to pages 329-338. I was pleased to find that the details were generally accurate, although often-repeated clichés had crept in. I do not mention the following to be pedantic, but to hopefully to provide the authors with potential tweaks for any second edition. For example, an image of a Rook is included on the Black Woodpecker page to illustrate a confusion species, when Jackdaw would always be a better corvid for this. Rooks rarely occur in Black Woodpecker habitats whereas Jackdaws do, even nesting in the woodpecker's cavities. It is stated that Middle Spotted Woodpeckers do not drum, but this is not strictly true. The Syrian Woodpecker is the most synanthropic of the family, but gardens and other 'man-made' environments are not mentioned in the note on its habitats. Overall, the brief habitat summaries for all eleven woodpeckers are so general and inconsistent, that most are, regrettably, of little use.
So, does this book replace the non-photographic field guides, such as the Collins Bird Guide which is generally regarded as being the best of all? In my opinion, it does not, but to be fair it is not meant to be. Europe's Birds is not a rival, but an alternative. As already mentioned, the book's subtitle is An identification guide rather than A field guide. If the difference between the two is that the latter can easily fit in your pocket or backpack when out birding, then this book is certainly not a field guide, unless you have a big pocket. The authors and designers obviously and admirably tried to incorporate as much information as possible, but I feel this resulted in too many things being squeezed in, such as miniscule maps and only snippets of text on habitats. The result is that the book lies somewhere between a field guide and a reference handbook, which might be a niche that suits some. Overall, Europe's Birds: an identification guide is an excellent book, of high quality, but it is best left at home, or in your accommodation or vehicle when away, to be consulted later. An enormous amount of work has clearly gone into producing this attractive book and I congratulate the authors, photographers, and editors.
Gerard Gorman
Header photo courtesy of Princeton University Press