Halcyon Journey: In Search of the Belted Kingfisher. Marina Richie. 2022. Oregon State University Press, Corvallis, OR, USA. 264 pages. ISBN 9780870712036. Paperback ($24.95).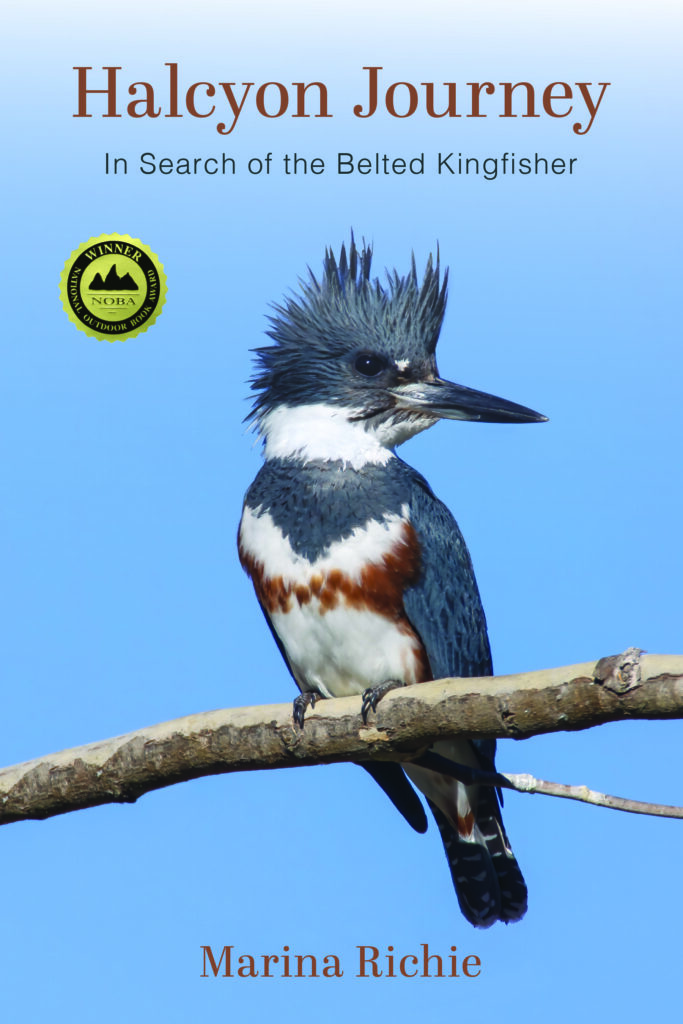 Within the field of ornithology, there is a melding of different people who are connected by a common passion – birds. Our passions are as diverse as our obsessions for these creatures. Some of us simply love birds for their beauty, some for their fascinating natural history, and others for the adventures related to merely sharing a "place" with them. There are also those who desire to study, research, and reduce the complexities of birds to advance scientific knowledge and understand their contribution to the overall scope of biodiversity. Each passion has its own utility and benefit, and each contributes to the protection, awareness and value that birds add to all life on earth.
Sometimes our differing passions can misalign us when we forget that we love birds for the same shared reason – the holistic nature of their art. Whether you are a bird watcher or an ornithologist, we occasionally need to be reminded of what ignited our infatuation with these creatures in the first place.
Marina Richie has created a platform through her book Halcyon Journey to remind each of us how we are all connected through our passions for birds. She takes us on a journey into the enigmatic life of the belted kingfisher. She has a way of conveying what many of us have witnessed, felt, and heard while going afield, but few of us are capable of expressing in written words. She also reminds us of the history and heritage of birds that connect us to our ancestors and the value they have added to our survival and cultures.
What I loved most about this book was the way Marina Richie saw the periphery in the field and how she so beautifully described the habitat and actions of the birds she was observing. How the "…snows were melting, and the pell-mell race of water overtook the songs of the birds…". I liked how she embarked on her own science project to investigate the "Red belt mystery" by visiting with and interviewing other scientists and field personnel to open pathways of conversation and rapport with others who shared her passion of the kingfisher.
The book is filled with valuable observations and behaviors that will aid any researcher or birdwatcher in their search for information related to the kingfisher. This is not a scientific monograph for sure, but it is a welcomed read and it contains some helpful observation-based information on the natural history of the belted kingfisher.
As a field researcher and someone who has conducted scientific research on the belted kingfisher I found this book refreshing. Marina Richie has created a nexus across the spectrum of bird passions while opening dialogs, and dialogs facilitate solutions.
Richard Huffines
Executive Director
Tennessee River Gorge Trust
Retired USFWS
Header photo: Belted Kingfisher (Megaceryle alcyon), USFWS/Scott Somershoe
---
Suggested citation:
Huffines, R. 2023. Review of the book Halcyon Hourney, by Marina Richie. Association of Field Ornithologists Book Review, https://afonet.org/2023/02/halcyon-journey/.
If you are interested in contributing a book review, or if there is a book you would like to see reviewed on our site, you can contact our Book Review Editor, Evan Jackson at evan.jackson@maine.edu