Peterson Field Guide To North American Bird Nests. Casey McFarland, Matthew Monjello, & David Moskowitz. 2021. HarperCollins Publishers, New York, New York, USA. 512 pages. ISBN 9780544963382. Paperback ($24.99 USD).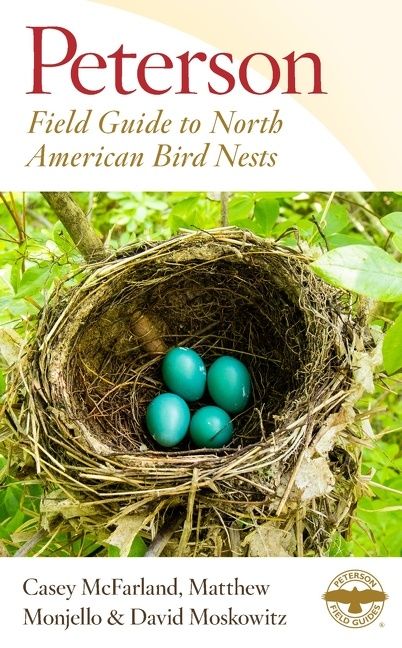 Nests can be tricky to find, so discovering one is exciting like learning about a secret. Nests are also marvels of bird behavior. They are intricate, intimate, splendid, often ephemeral structures, and hold clues about how birds overcome challenges associated with reproduction. With wonderful photographs and succinct text, The Peterson Field Guide to North American Bird Nests captures this excitement of finding a nest and leaves readers in awe of the stunning diversity of nest morphologies seen in North American birds.
The most remarkable aspect of this field guide are the photos. The immaculate blue eggs resting in tidy cup nests of Gray Catbird and Veery, the lichen encrusted nests of Blue-gray Gnatcatchers, the tundra scrapes of Bar-tailed Godwits, and the sewn baskets of Hooded Orioles illustrate some of the spectacular variation in nest morphologies of birds. With over 750 photos of nests, this guide tackles the ambitious goal of summarizing nest morphologies of North American birds, that breed primarily north of the US-Mexico border. While one goal of this guide is to help readers identify bird nests, this goal is challenging because nests within a species can vary in appearance depending on the availability of materials, geographic differences across breeding sites, and preference of individual birds for some materials over others. The guide captures some of this variation by including photos of multiple nests for some species (e.g., Willet, Yellow Warbler, White-crowned Sparrow, Hermit Thrush), which nicely illustrates this variation observed within a species. Despite within species variation in nest composition, this guide will help readers identify bird nests. The second goal of this book offers a stunning tour-de-force of the diversity of nest morphologies, placements, and materials used in nest construction. This second goal is beautifully achieved. My only wish is that the nest photographs were larger.
The guide starts with a series of primers for thinking about the evolutionary history of bird nest, and for understanding how nests help birds overcome challenges associated with reproduction. The heft of the guide is the species accounts. While over 650 species are included, not all (understandably) have photos of their nests. Nearly all nests are photographed from the top down, providing beautiful views of eggs, nest interiors and glimpses of the often-messy exteriors of nests. Several species have side views of the nests offering another perspective to the traditional top-down view and, for some cavity nesting species, photos of the cavity entrance are included. Within each species account, are succinct summaries of nesting habitat, nests morphology and placement, clutch size, egg size, and some details of breeding behavior. For select species with unique breeding behaviors that affect nest morphologies or composition (i.e., the use of shed snake skin in Great-crested Flycatcher nests, and the accumulated guano in American Goldfinch nests that successfully fledge young) these supplemental images are welcomed additions to species accounts. Presumably in an effort to reduce redundancy within species accounts, the guide provides family level summaries to capture aspects of nests and breeding behavior shared by closely related species prior to the individual species accounts. Often, intriguing observations are included in these sections and absent in individual accounts (i.e., the use of shed snake skin in titmice nests), but not always (i.e., the application of resin or smearing insects on or near entrance holes in nuthatches). Regardless, do not skip these sections!
Comparing this guide to Hal Harrison's original volumes reveals, not surprisingly, a striking improvement in photo quality. Photos are taken in natural light, rather than what appeared to be flash photography, which darkened the backgrounds in Hal's original guides. The species accounts in the new Peterson Guide lack many of Hal's personal observations, hallmarks of a keen naturalist, that brought a tone of wisdom to the text that comes with years of observation. Notes like this are missing from this new edition, likely to streamline species accounts and keep the book a manageable size. Like Hal's original guide, this one offers helpful introductory pages that summarize egg shape, and markings, and now includes illustrations of nest placements and nest types (i.e., cup, scrape, platform, etc.). A unique and helpful reference for waterfowl nest identification are photos of duck belly feathers; perhaps future editions will include photos of waterfowl down color too. The new guide also includes a helpful, color coded, banner that runs along the bottom of each page to quickly navigate the diversity of birds within the guide.
In future versions of this guide, I'd like to see photographs of missing species. For example, many shorebirds are missing nest photos. Given the similarity of nest placement, clutch size, egg shape and coloration, these missing shorebird nests cannot discredit the incredible collection of photos within this guide. Adding photos that capture aspects of the breeding habitat would add depth to species accounts and there are excellent examples of these (i.e., Emperor Goose, Common Murres, Bank Swallows, Long-tailed Jaeger). More photos like these would be welcomed in future versions.
Overall, this guide is easy to use, offers informative succinctly written text, and celebrates the diversity of nests seen in North American breeding birds through an incredible series of photographs. Without doubt, the nest photos stir the imagination and sense of awe by capturing such a secretive moment in a bird's life—the reproductive cycle centered around the nest. This book belongs on the shelves of both budding and seasoned ornithologists.
Vanya Rohwer
Curator of Birds and Mammals
Cornell University Museum of Vertebrates
159 Sapsucker Woods Road
Ithaca, NY 14850
Header photo: Northern Cardinal (Cardinalis cardinalis) nest, Mark Musselman/USFWS
---
Suggested citation:
Rohwer, V. G. Review of the book Peterson Field Guide to North American Bird Nests by Casey McFarland, Matthew Monjello, & David Moskowitz. Association of Field Ornithologists Book Review. https://afonet.org/2023/05/peterson-field-guide-to-north-american-bird-nests/.
If you are interested in contributing a book review, or if there is a book you would like to see reviewed on our site, you can contact our Book Review Editor, Evan Jackson at evan.jackson@maine.edu