https://www.lynxeds.com/product/birds-of-the-mesozoic/ Juan Benito, Roc Olivé Pous. 2022. Lynx Edicions, Barcelona, Spain. 272 pages. ISBN 978-84-16728-52-7. Paperback (29.00€, $37.50 USD)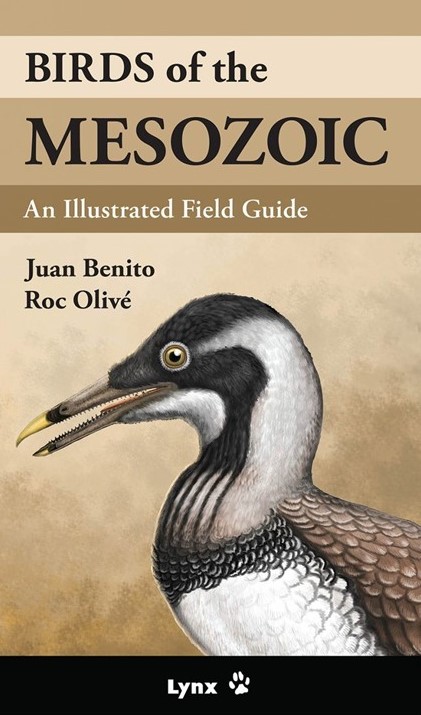 Birds fascinate people. A quick journey through human history reveals ample evidence of how birds have captured our imagination since the dawn of history and across cultures, from illustrations of birds in paleolithic cave art, to the in ancient Egyptian god Horus depicted as an eagle, to carved thunderbirds crowning totems in many North American indigenous cultures.
Today, fascination in birds takes another form: birders – folks who engage in birdwatching as a recreational activity. In a report issued by the US Fish and Wildlife Service based on 2016 data, they estimated there are 45 million birders in the US alone, that is nearly 20% of the population. Although many 'true' birders consider this a vast overestimate, preferring to exclude 'at-home' birders from their ranks, it is nonetheless clear that birds continue to capture intense interest. This is not surprising considering there are over 10,000 species, some with impressive songs or fascinating behaviors, and still more with delightfully colorful plumage.
Most birders, at least when they set out, rely on illustrated field guides like the Sibley Guide to Birds, which depicts species in their various plumages necessary to identify males and females of the species at post-fledging life stages, as well as provides additional useful information such as size, range, and call. Birds of the Mesozoic: An Illustrated Field Guide playfully follows this book type and would be a 'must pack' to any modern birder invited to board a time machine to the Mesozoic. Overall, the guide is well written, beautifully illustrated, and very informative – perfect for the inquisitive amateur seeking to understand the earliest history of this wonderfully diverse group.
The guide is not meant for specialists, who would immediately notice some oddities, such as the inclusion of numerous probable nomen nuda (named taxa in which, most commonly, the original publication failed to provide data in support of their uniqueness) and junior synonyms (such as Aurornis and Shenzhouraptor, although the possibility of these taxa being invalid accompanies these entries) but exclusion of some valid taxa (such as Flexomornis). Additionally, the presented phylogenetic relationships are rather one-sided (for example, depicting the Scansoriopterygidae as avialans when it is very likely they are instead basal members of the Oviraptorosauria, a significantly different hypothesis). However, phylogenetic relationships for early birds in particular are poorly resolved and highly debated by interested scientists, and it could be easily argued that summarizing the full breadth of hypotheses goes beyond this publication.
The book begins by providing a very informative introduction to early avian anatomy, as well as important aspects of early bird biology such as reproduction and diet. Next, the guide walks the reader through the various deposits that have yielded Mesozoic bird fossils, before diving in to illustrated species accounts. Although the reader needs to keep in mind that these illustrations, in particular with regards to plumage (but also with regards to the skeleton for some taxa based on fragmentary material like Gettyia) are in many – if not most – cases almost entirely fanciful, it is delightful to 'let go' and imagine what this spectacular diversity of mostly Cretaceous birds may have looked like. The notes provided for each taxon (and in some case, un-named specimens, almost all being non-diagnostic immature individuals) are very useful for teasing out to what degree each illustration can be relied upon by providing information regarding what material is available for the species, if it includes preservation of feathers, and if these feathers have been analyzed for melanosomes (pigment containing mono-organelles).
The book is admirably up to date and although the authors themselves say the book may become outdated in some areas in a matter of weeks, I consider that this 'field guide' will remain a reliable source for amateur paleornithologists for years to come. Juan Benito, who recently completed his PhD at the University of Cambridge, is certainly a scientist to keep your eyes on who will without a doubt continue to make important contributions to our understanding of fossil birds in both the scientific and popular literature. The result of his partnership with the talented paleoartist Roc Olivé is a unique and comprehensive portrait of the Mesozoic aviary that will delight fossil enthusiasts and modern birders alike.
Jingmai O'Connor
Header photo: Evan Jackson (University of Maine)
---
Suggested citation:
O'Connor, J. Review of the book Birds of the Mesozoic: An Illustrated Field Guide by Juan Benito and Roc Olivé Pous. Association of Field Ornithologists Book Review. https://afonet.org/2023/07/birds-of-the-mesozoic-an-illustrated-field-guide/
If you are interested in contributing a book review, or if there is a book you would like to see reviewed on our site, you can contact our Book Review Editor, Evan Jackson at evan.jackson@maine.edu