https://press.princeton.edu/books/paperback/9780691220727/birds-of-belize Steve N.G. Howell and Dale Dyer. 2023. Princeton University Press, Princeton, NJ, USA. ISBN 9780691220727. Paperback ($35.00 USD).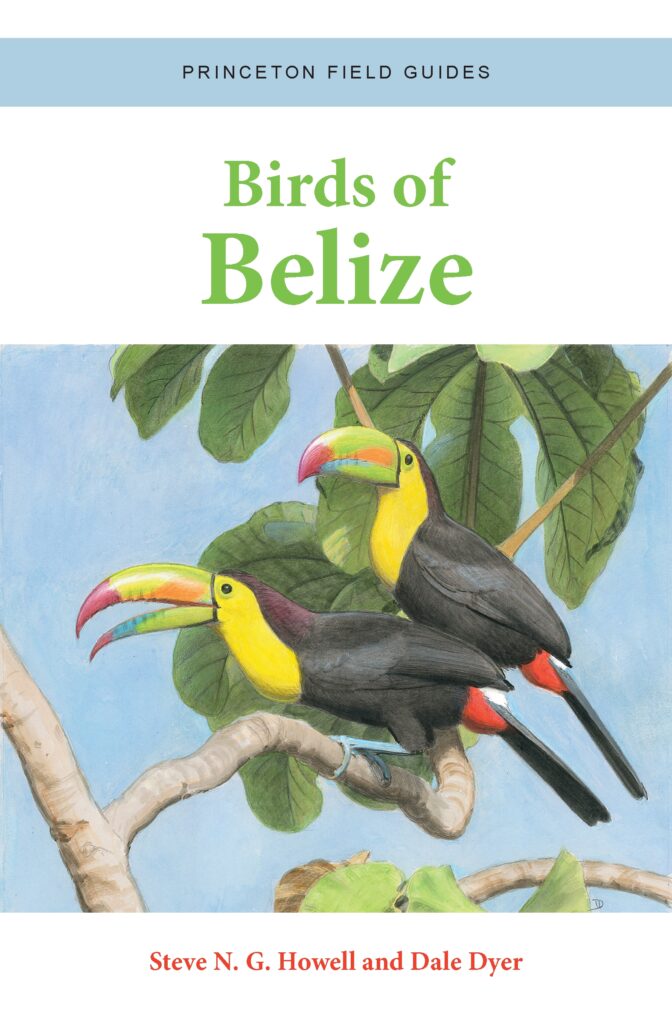 I received the book from the publisher thanks to a request from AFO, who kindly asked me if I would be interested in reviewing this new book.
The first pleasant surprise was the size of the book, which was very practical. The idea of having the groups of species presented on the folded front inside cover to get a quick idea of what we're looking at seems to be very useful and well thought out. Although it may seem that there are few species in Belize, with this double-page spread of quick groups presentation, one can appreciate that there are over 500 species illustrated and some 81 rare or wandering species commented on.
In Belize people speak English, of course, so the index of names is in English, and it is a pity that scientific names are not included. Spanish names are not included either, which is understandable. The two neighboring countries, Guatemala and Mexico, do speak Spanish but do not always share the same common names.
The illustrations are soft and well-detailed, with different plumages; males, females, and immature and juveniles when necessary, which would be very useful in the field. This book doesn't lack Steve Howell's personal touch, with comments on possible species separations due to obvious visual criteria of the different subspecies. This is an interesting exercise that allows the observer to have a more critical eye on the birds they observe.
Moreover, the separation between juveniles and immatures seems to me very pertinent. At last a book that ventures into the definition of plumage – what more could we expect from Steve, who is a molt nerd. Thank you, Steve, for sharing you passion for plumage and its correct denomination.
Each species group has an introduction that explains the number of species per family, identification details and useful information for each family. It's an enjoyable and useful book, not only for Belize, But also for the surrounding areas. I think everyone who travels the Caribbean in search of birds should have this book in their pocket.
Manuel Grosselet
Field Ornithologist at Tierra del Aves and NABC trainer
Header photo: Keel-billed toucan (Ramphastos sulfuratus) Zdeněk Macháček
---
Suggested citation:
Grosselet, M. Review of the book Birds of Belize by Steve N.G. Howell and Dale Dyer. Association of Field Ornithologists Book Review. https://afonet.org/2023/08/birds-of-belize/.
If you are interested in contributing a book review, or if there is a book you would like to see reviewed on our site, you can contact our Book Review Editor, Evan Jackson at evan.jackson@maine.edu