Illuminating Natural History: The Art and Science of Mark Catesby, by Henrietta McBurney. 2021. Paul Mellon Centre for Studies in British Art, Distributed by Yale University Press, New Haven CT. xii + 353 pages. ISBN 978-1-913107-19-2 HB (Hardcover)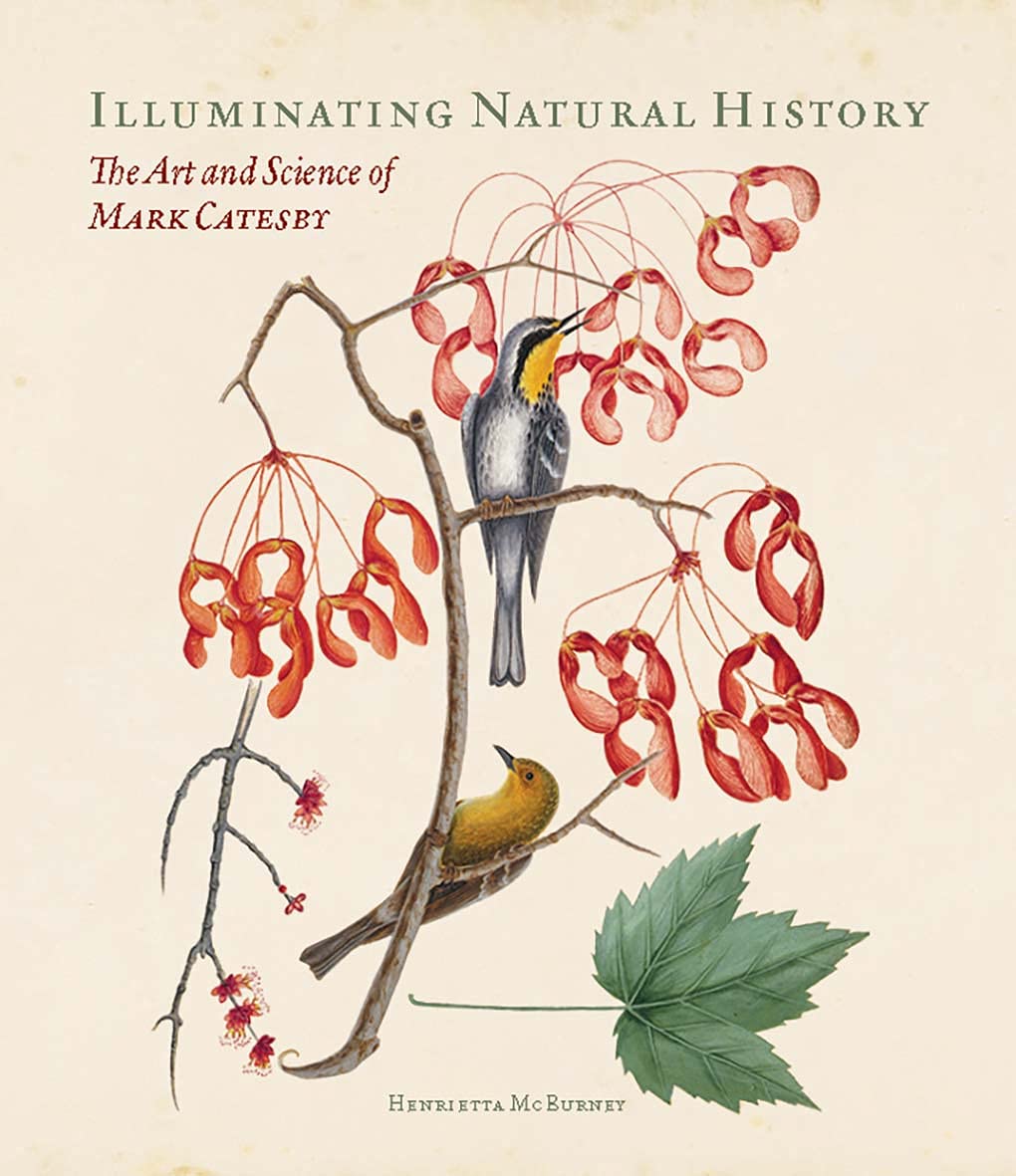 Before there was John James Audubon, there was Alexander Wilson, but before both there was Mark Catesby—the first artist-naturalist to engage in the ambitious project of depicting the flora and fauna of North America, most notably (and for readers of this journal, most agreeably) birds. In the first half of the nineteenth century, Audubon (1785-1851) became America's most adulated avian artist, even as he worried about Wilson (1766-1813) as an ornithological rival, but Catesby (1683-1749) provided an impressive model for those more celebrated successors. Henrietta McBurney's Illuminating Natural History offers an illuminating study of a man who combined an artistic delight with exacting standards of field research, both of which we can still appreciate today.
There's nothing lightweight about this book, either physically or intellectually. It's a hefty load for the lap, and at first glance it might seem better destined for the coffee table, where one can more easily leaf through page after glossy page of images, most of them richly done in color. But in addition to being visually voluptuous, McBurney's book is academically rigorous, with a careful and scholarly account of, as the subtitle says, Catesby's art and science, not to mention his personal rise to success, even celebrity, in the eighteenth-century Atlantic world's best scientific circles.
Catesby came from a family of minor gentry in Sudbury, about seventy miles northeast of London, and he probably attended the best school in the region, Felsted, where he "gained a reading and writing knowledge of Latin and French, and an elegant prose style" (36). He apparently taught himself to draw by copying pictures in books, and somewhere along the line, he also learned an equally valuable skill for a would-be naturalist, how to network with notable members of the scientific community, reaching from London, what he called the "centre of all Science," to distant British colonies in the southern part of North America and in the West Indies. Supported by patronage and propelled by single-minded dedication, Catesby made two trips to this side of the Atlantic, first Virginia, 1712-19, and then South Carolina, 1722-26, drawing and collecting the material that would eventually appear in his two-volume masterpiece, Natural History of Carolina, Florida, and the Bahama Islands (London, 1731 and 1743).
McBurney skillfully leads the reader along a lavishly-illustrated path to that publication, giving us detailed descriptions of the way he worked, as both an artist and a naturalist, always emphasizing Catesby's own attention to detail. In depicting birds, for instance, he preferred to work from live or freshly-killed specimens, putting them in lifelike poses (as Audubon would later do) and paying special attention to painting with the proper pigments, some of which he made himself. He also sought to connect fauna with flora, bringing to his art a "perception of the ways in which colours of animals and plants reflected each other" (121). Indeed, his recognition of the relationship between birds and "the Plants which the feed on and frequent" (202) anticipates the growing awareness among modern-day birders to pay more attention to habitat and not just stop at numerical bird-bagging. As a specimen-collector, Catesby ranged well beyond the bounds of white settlement, carrying his equipment and provisions deep into the interior regions of the colonies. There he not only encountered Indigenous people but, as did other naturalists before and after, relied on them for their knowledge of landscape and nature. He did succumb, at least once, to a "designe to buy a Negro boy, which I cannot be without" as an assistant in the field. After one long trip up the Savannah River, Mc Burney notes, "there are no further references to this African slave" (198)—and there, unfortunately, the matter drops with no further comment on the author's part.
McBurney's overarching admiration for Catesby comes though consistently in her estimation of all aspects of his work, whether as artist, who "remained faithful to his aim to illustrate nature, truthfully and accurately" (145); as horticulturist, where "one of his aims was to identify plants in the wild that had hitherto been unremarked and to introduce them to gardens in American and England" (181); or as naturalist, whose collected specimens "are still of value to present-day botanists in their interpretation of the Linnaean species of North America" (219). Yet for all his achievements, McBurney concludes, Catesby remained a man of considerable humility, characteristically deflecting his own skills, he modestly said, as being "short of that inimitable perfection so visible in Nature itself" (219). In that regard, McBurney echoes Catesby herself, making an overly modest assessment of her own aims. She dutifully acknowledges, both in the text and in an extensive bibliography, her intellectual debt to the many works on Catesby that have come before, and says that the purpose of her book is, in part, "to provide a source—or resource—for future studies of Catesby" (8). Those studies will surely come, but they will emerge in the long shadow cast by Illuminating Natural History. It is always unwise to declare any work to be "definitive," but this book comes as close as anything can. For now, and no doubt for quite some time to come, it can stand as the most comprehensive, authoritative, and visually stunning study of Mark Catesby and his exploration of the natural world of North America.
Greg Nobles
Gregory Nobles is Professor Emeritus of History at the Georgia Institute of Technology and author of John James Audubon: The Nature of the American Woodsman (Philadelphia: University of Pennsylvania Press, 2017).
Header photo: Crested Jay painting by Mark Catesby. Public Domain.
---
Suggested citation:
Nobles, G. 2022. Review of the book Illuminating Natural History: The Art and Science of Mark Catesby, by Henrietta McBurney. Association of Field Ornithologists Book Review, https://www.afonet.org/2022/03/art-and-science-of-mark-catesby/.
If you are interested in contributing a book review, or if there is a book you would like to see reviewed on our site, you can contact our Book Review Editor, Evan Jackson at evan.jackson@maine.edu