OWLS OF THE EASTERN ICE: A Quest to find and Save the World's Largest Owl. Jonathan C. Slaght. 2020. Farrar, Straus, and Giroux, New York, NY, USA. 348 pages. Four black and white, and 16 colored photos. LCCN 2020003420; ISBN 9780374228484. $28.00 US and $38.00 Canada (Hardcover).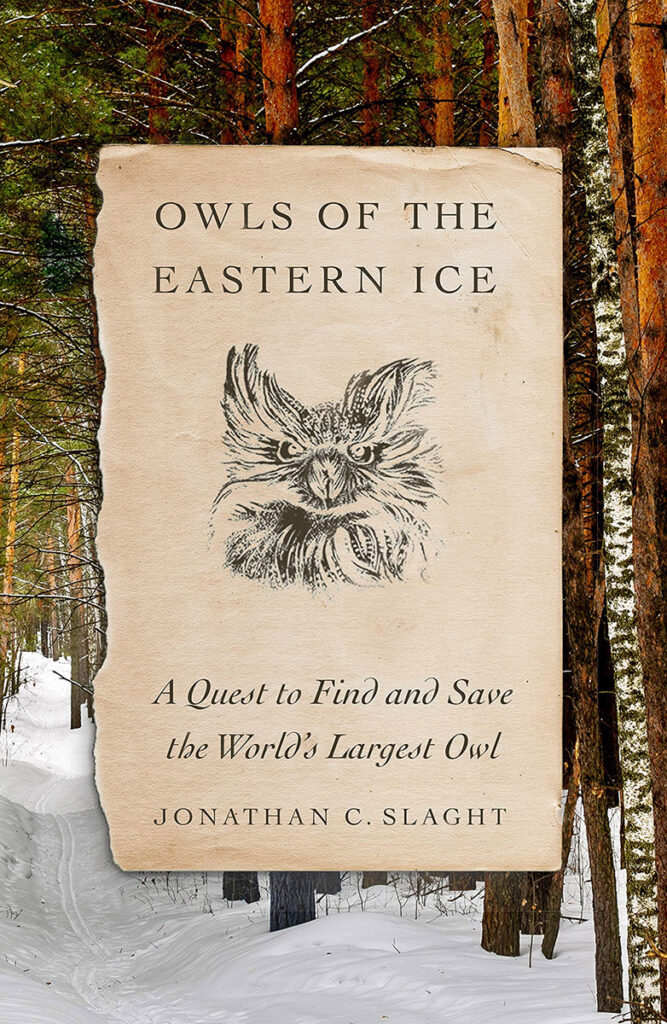 This is a true story as told by Jonathan Slaght, a young graduate student, about his graduate study on Blakiston's Fish Owl (hereafter Fish Owl) in the Primorye Province of eastern Russia. Slaght was originally in this region working for the Peace Corps. He later completed a Master of Science (MS) degree on song birds and forest management in the Primorye region. He learned to speak Russian fluently. While bird watching one day he observed and photographed a Fish Owl. He sent the photo to a regional Russian Ornithologist, Sergey Surmach. It turned out that "no scientist" had seen a Fish Owl this far south in 100 years. In 2005, he met with Surmach and decided to research Fish Owls for his Doctor of Philosophy (Ph. D) project at the University of Minnesota. This would take five seasons.
This book is also a story about a team of Russian field assistants assembled by Surmach to help Slaght. Surmach, and some of the field assistants had experience with Fish Owls and knew most of the territories where the study would take place. The Russian field assistants possessed knowledge of trucks, snowmobiles, associated equipment, and logistics. Their expertise was instrumental and indispensable in helping Slaght over five field seasons. These assistants taught Slaght how to find Fish Owls, capture bait fish to lure and trap Fish Owls, how to travel, live, and survive in these remote forests during winter. Their knowledge of the Fish Owl and fish – the owls' main prey – were important for locating areas where the owls hunt. They devised feeding stations (used for many years in Japan) and by trial and error, helped Slaght develop an efficient capture method. While Slaght was back at graduate school, his assistants continued to collect data. They climbed and measured trees, recaptured Fish Owls to gather GPS transmitter data, and so forth. The Russian field assistants contributed enormously to Slaght's study, which could not have happened without them. Slaght acknowledges their vital role throughout the book.
The book has three parts, and 33 brief chapters. Within the first two parts, there are numerous anecdotes describing the situations and difficulties Slaght and his team encounter leading up to finding and capturing Fish Owls.
Slaght employs a variety of writing styles. Most of the narrative appear to come from journal or field note entries, and some are afterthoughts and reflections. There are many stories of personal experiences, observations of people and places, and occasional local historical anecdotes. At times, the stories are exhilarating, sometimes funny, and sometimes sad. At other times, the writing is philosophical, and a bit dramatic. Nonetheless, taken together, it makes for an interesting true adventure story.
In 2006, Slaght's first field season, he leaves the safety of academia, and the life of a student, to live in remote wilderness camps. Slaght has to meet his field assistants and develop working and trustworthy relationships. He also has to meet local people who live in these remote forest landscapes. He often felt compelled to join in and drink various spirits – a little more than he was used to. But he was building relationships.
Slaght's research is a throwback to old school field biology – boots on the ground – if you will. His project exemplifies the real-world life of a field researcher, studying animals in their natural habitat. Although Slaght uses modern technology to aid his research, he is not just simply making inferences from a computer screen, as is often the case today. Slaght quickly realizes, the romantic notion of being a wildlife researcher is hard. And studying animals at night – such as owls, is even harder. Nonetheless, he spends a fair amount of time in the field.
Slaght starts out as a novice with a little field experience, a little knowledge of owls, and a "How hard could it be?" (p. 12) outlook. He soon recognizes that his study design looked great on paper while sitting in a university office. But as most seasoned field researchers know, once you go into the field, the game plan changes, and reading about your study species is different from studying it. Indeed, knowledge of your research animal is only one part of field biology.
There are several entries where Slaght is concerned his project might be in jeopardy due to the difficulties he and his team encounter. For example, not being able to find owls, not being able to catch owls, GPS failures, sample size, and many more concerns. However, he hangs in there, resets his mind, and makes the best of challenging situations.
The Fish Owl Slaght studies is mainly nocturnal, secretive by day, and lives in old growth remote forests. Most of the work was conducted at night during winter. At times, the snow was knee deep, and temperatures often dropped well below zero. Living situations were primitive, equipment broke down regularly, or simply would not work in these conditions.
Over the 5 field seasons Slaght evolves. By 2009, one can tell from his writing, that he is becoming an experienced field researcher. His knowledge of the owls and his research skills have improved greatly. Indeed, it takes years to become a trusted field researcher.
Slaght and his team had to deal with several harrowing situations. In one of Slaght's first incidences crossing a frozen river, their snowmobile partially sunk through slushy ice. Slaght and one of the team members had to jump off into thigh deep slush and push the machine forward until it gained traction and powered safely to land. With waders filled with slush and ice water, the two of them had to strip down, while a third assistant built a fire for them to dry off and change clothes. That was not the only time their waders overflowed with water. In other situation's they hiked and trudged through knee deep snow or struggled to maneuver snow skis through tangles of vegetation. And no matter the situation, there was always the thought of encountering tigers and boars, among other creatures of the night – including people.
Other experiences included negotiating floods, camping in freezing cold tents to monitor and film owl behaviors. To catch Fish Owls, the team had to catch fish to be used as bait and lure owls into their traps. They dealt with a wildfire that almost trapped them in the forest. On another occasion, Slaght and an assistant were in the truck on a logging road deep in the forest. Slaght's assistant heard a distant sound and knew immediately what was happening. A bulldozer was piling dirt to block the road entrance to prevent unauthorized vehicles from entering. They raced their truck to the sound source and were able to get out. This would have been a long hike. At one-point Slaght admits, his expensive high tech outdoor gear was not as durable as he expected. Slaght had to learn to be a woodsman and navigate through forests by learning the forests, reading natures signs, learning general compass orientation, and trusting intuition. He could just not rely only on his battery-operated GPS unit.
In the end, Slaght, spent about 20 months, over five field seasons studying the Fish Owl. He and his team found 13 territories and devised one of the first reliable live-trapping methods for Fish Owls. They were able to attach 7 GPS data loggers to individual Fish Owls, of which 5 logged sufficient data to help define the natural history of Fish Owls in this region. Their data buttressed observations by early naturalists that Fish Owls need big old growth trees with broken sides or tops for nesting. And, they need fish and fish habitat. Slaght's analysis from the data loggers help him define Fish Owl home ranges, and habitat use. He also discovered that Fish Owls track fish within their home range, and most Fish Owls move seasonally up and down the rivers to the best fishing places. Surprisingly to Slaght, these data revealed important information regarding habitat needs of fish species within the river ecosystem. These fish were the main prey of Fish Owls. Thus, Slaght was connecting the dots between Fish Owls, fish, and habitat, similar to Snowy Owls, lemmings, and snow.
Other observations uncovered by Slaght and his team included methods for correctly sexing the owls – which they got wrong in the beginning. They delineated nest site characteristics, learned about individual and family behavior, the importance of valleys within the mountainous terrain, the importance of multi-channeled rivers, and open water areas during winter freeze-up. These types of data are essential to conservation and management efforts.
As Slaght states on page 312, he is now married with two young children and spends "far less time in the field". This is unfortunate, as Slaght is clearly passionate about the owls. However, this is what happens to most wildlife biologists. Just when they are becoming knowledgeable field researchers, the field research is over, and degrees secured. Now the duties of life; job, security, family, and so forth take precedent. Field research becomes a distant memory for most.
Hopefully, Slaght's work will be continued and refined. He and his team provided enough data to establish a small foundation of Fish Owl natural history knowledge in Primorye Province. It takes many, many years, to gather sufficient data that will stand the test of time. And, it takes many, many years of boots on the ground field research to become an expert field researcher. Slaght opened that door for himself, and I hope he will continue, and others will follow under his guidance.
Since accepting a job as the Russia and Northeast Asia Coordinator for the Wildlife Conservation Society, Slaght has become an administrative conservationist, and can now advocate for wildlife conservation. The policies he creates, and if successful, will ensure this old growth coastal forest of Primorye Province will be maintained for Fish Owls, and other wildlife that have evolved to live in this ecosystem.
Throughout the book, I could visualize every situation Slaght and his team encountered. Over my 40-year career as a full-time field researcher on owls, I have experienced many similar situations in various ecosystems. I am also familiar with Blakiston's Fish Owl. Many years ago, I accompanied my long-time friend and Fish Owl researcher Takeshi Takenaka in Hokkaido, Japan. I visited nest sites, sat at feeding enclosures, and observed Fish Owls, that Takeshi and colleagues have been managing and monitoring for over 25 years.
For this review, I read the book with pencil in hand, and took notes on the page margins. However, the next time I will read this book for pleasure, during winter. I will be sitting in my rocker, in front of my open-face wood stove, fire burning, reading, and gazing at snow covered landscapes here in Montana.
Finally, I recommend this book to all people with an interest in natural history, and those who wonder what wildlife researchers do. I encourage former wildlife researchers to read this book. It will remind many of us, why we entered this field. For me it was a passion for wildlife, particularly owls. For others, it will remind you of the times you did field research and will stir memories of why we discovered within ourselves, this passion for wildlife.
Denver Holt
Owl Research Institute
P.O. Box 39
www.owlinstitute.org
Header photo by Takashi Yanagisawa via Pixabay
---
Suggested citation:
Holt, D. 2022. Review of the book Owls of the Eastern Ice: A Quest to Find and Save the World's Largest Owl, by Jonathan C. Slaght. Association of Field Ornithologists Book Review, https://www.afonet.org/2022/03/owls-of-the-eastern-ice/.
If you are interested in contributing a book review, or if there is a book you would like to see reviewed on our site, you can contact our Book Review Editor, Evan Jackson at evan.jackson@maine.edu